For the moments when you need additional energy
Energy drink Fast Energy is a drink with balanced combination of vitamins which releases energy.
FAST ENERGY DRINK

...original taste of tutti-frutti flavour
VITAMIN MIX ingredient in Fast Energy is an ideal combination of vitamin C and vitamin B complex necessary for daily needs. Complex of vitamins regulates metabolism processes, acts as antioxidant.
Fast Energy contains INOSITOL which additionally boosts concentration and memory, as well as it clams the nervous system and enables peaceful dreams.
Nutrition declaration
Energy value 205 kJ/48,3 kcal
Fat 0 g
Carbohydrate 11,5 g
Protein 0,3 g
Salt <0,07 g
Niacin 2,92 mg
Pantothenic acid 0,99 mg
Vitamin B6 0,67 mg
Vitamin B12 0,3 μg
FAST ENERGY DRINK

DRAGON FRUIT CHERRY
Authentic flavour with dragon fruit flavour, in combination with sour cherry, a true explosion of tastes which helps to fulfil even the most demanding tasks improving your confidence.
Nutrition declaration
Energy value 203 kJ/47,8 kcal
Fat <0,01 g
Carbohydrate 11,15 g
Protein 0,4 g
Salt 0,25 g
Niacin 8,0 mg
Pantothenic acid 2,0 mg
Vitamin B6 2,0 mg
Vitamin B12 2,0 μg
FAST ENERGY DRINK

STRAWBERRY VANILLA
Energy drink with strawberry and vanilla flavour is inspiring for those who at the same time want perfect, soft and authentic flavour.
Ideal for hanging out with friends and vacation time. Let yourself be seduced by the new generation of an energy drink for the true hedonists.
Nutrition declaration
Energy value 199 kJ/46,9 kcal
Fat <0,01 g
Carbohydrate 10,9 g
Protein 0,24 g
Salt 0,234 g
Niacin 6,3 mg
Pantothenic acid 1,6 mg
Vitamin B6 1,6 mg
Vitamin B12 1,6 μg
FAST ENERGY DRINK

APPLE MANGO + BCAA
Energy drink full of vitamins with refreshing taste of apple and mango and addition of BCAA amino acids. BCAA are three essential amino acids: leucine, isoleucine and valine providing you with energy during the training and building you muscle cells after the training.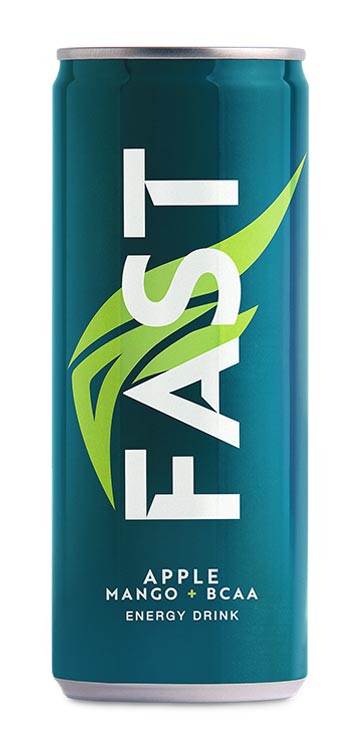 Nutrition declaration
Energy value 212 kJ/50,0 kcal
Fat 0 g
Carbohydrate 11,4 g
Protein 0,43 g
Salt 0,17 g
Niacin 7,9 mg
Pantothenic acid 2,0 mg
Vitamin B6 2,0 mg
Vitamin B12 2,0 μg